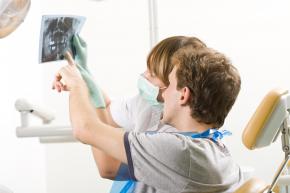 Are you looking for a family-friendly dentist? Do you want to be under the care of someone with the latest technology? If you have answered "yes," then Drs. Louis and Dominic Vitangeli are the dentists for you!
They offer the best family dentistry near Dayton with their advanced, modern technology. Drs. Louis and Dominic Vitangeli want you and your family to have the best and comfortable treatment, and that's why they focus on getting the latest dental technologies.
Dental technology has advanced over the past 25-30 years, and the Vitangeli team is proud to offer modern equipment including:
Panoramic X-rays: Can capture an entire image of your mouth in one shot. No splints to open your mouth included!
Intra-Oral Camera: A video camera giving a live feed of your teeth
DIAGNOdent®: Painless laser that detects cavities
Oral Conscious Sedation: Scared going to the dentist? This pill will put you at ease making your visit much more relaxing
Anti-Snoring Appliances: Several appliances that can stop your snoring and help prevent sleep apnea
Isolite®: A ultraviolet illumination that speeds the hardening process
Cerec® Digital Impression Unit: Can prepare your crowns right away!
Your dentists in the Dayton area also offers other comfortable amenities including television, headsets, blankets, pillows to help you enjoy your visit at the dental office. If you are in need of dental services, visit Drs. Louis and Dominic Vitangeli today and take that step of obtaining a healthy and beautiful smile.