Implant-Supported Dentures in Englewood, OH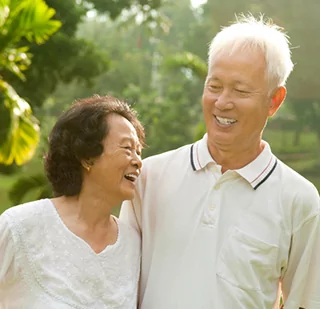 When you learn about implant-supported permanent dentures from our Englewood, OH dentists, you may very well begin to think differently about dentures.
With a few dental implants in place, your permanent dentures become extremely stable, which is necessary to eat comfortably and smile with confidence.
Dayton-area denture patients may be craving a better experience. You can find it with the remarkable ease and effectiveness of implant-supported permanent dentures.
Implant Denture Procedure
This procedure starts with a few dental implants which are surgically placed into the jawbone. Once the implants are securely in place, a healing period follows to allow your jawbone to grow around them, a process known as osseointegration. This gives your implant-supported dentures a solid foundation, mimicking the function of natural tooth roots.
After healing, the dentures are attached to the implants, completing the transformation. Our team will guide you through every step, ensuring your comfort and understanding. The end result is a robust, secure smile that feels natural and enhances your confidence.
Benefits of Implant-Supported Dentures
The value of getting fixed dentures here with us:
We offer high-end customizable dentures. Each denture apparatus is custom-made to fit your smile perfectly. We care about your unique smile goals and will craft our dentures to meet your specifications.
The dentures will look completely natural. Our fixed dentures are individually crafted to replicate the teeth you've been missing. Get your photo snapped, smile, and laugh with confidence again.
The dentures will feel natural. You may even forget you have a denture appliance in your mouth!
We place and restore dental implants so your whole denture treatment can be done under one roof with dentists and a dental team you know and trust.
We use state-of-the-art dental technology, including a CT scanner and a surgical guide to pinpoint the ideal location and angle of the implant so your dental implants are placed exactly where they need to be.
Fixed Dentures Options
Vitangeli Dental offers three tiers of fixed dentures: entry-level, mid-grade, and premium. Our dentists always plan out each treatment so the placement of the implants will make any of these final prosthetics interchangeable. This way a patient could start out with Stabiliteeth, for example, and when it needs to be replaced they could replace the prosthetic with TeethExpress instead.
Stabili-Teeth™
Stabili-Teeth™ is the most economical prosthetic we offer. Stabili-Teeth™ dentures are a type of implant-supported denture that offers superior stability and durability compared to traditional dentures.
This innovative denture technology uses dental implants to secure the denture in place, preventing it from slipping or shifting while eating, speaking, or laughing. Stabili-Teeth™ dentures are designed to fit comfortably and securely, providing patients with greater confidence and freedom to enjoy their favorite foods and activities.
They are also easier to care for and maintain, reducing the risk of gum irritation, infection, and other dental issues associated with traditional dentures. Stabili-Teeth™ dentures are an excellent option for patients who want to improve their oral health and quality of life with a long-lasting and reliable tooth replacement solution. Stabiliteeth should last around 5-8 years with proper care and costs about $15K per arch.
All-on-X Fixed Dentures
All-on-X is our mid-grade final prosthetic option. All-On-X is a popular and innovative dental service offered at our practice in Englewood, OH. The All-On-X treatment involves placing a full arch of prosthetic teeth on four or more dental implants, providing a secure and long-lasting solution for patients who have lost most or all of their natural teeth.
All-On-X dentures offer many advantages over traditional dentures, including improved comfort, stability, and chewing function. They are also more hygienic and easier to care for than traditional dentures.
Patients who choose All-On-X dentures can enjoy a restored smile and improved quality of life. All-on-X should last around 8-10 years and costs about $19K per arch. Our qualified dentists in Englewood, OH can provide a thorough consultation and assessment to determine if All-On-X dentures are the right treatment option for you.
TeethXpress Permanent Dentures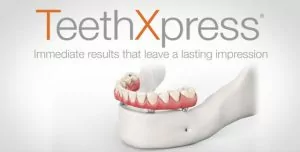 TeethXpress is a revolutionary dental procedure for replacing missing teeth with dental implants. The end result is a full mouth of natural-looking and durable teeth.
The TeethXpress procedure is All on X with a full Zirconia prosthetic and involves the precise and strategic placement of four dental implant posts on both the upper and lower arches of your mouth.
With these implants in place, one of our dentists will then attach your custom denture appliance to the implants, leaving you with a full and permanent set of teeth. TeethXpress permanent dentures is a long-term dental implant solution for patients who are missing all or most of their adult teeth. TeethXpress should last as long as the implants do, which could be more than 20 years depending on the patient's health and how they take care of them.
The cost is about $30K per arch. If your missing teeth have caused you to have trouble eating, speaking, or smiling, contact us today to learn more about TeethXpress dental implants near Brookville and Dayton.
Removable Implant-Supported Dentures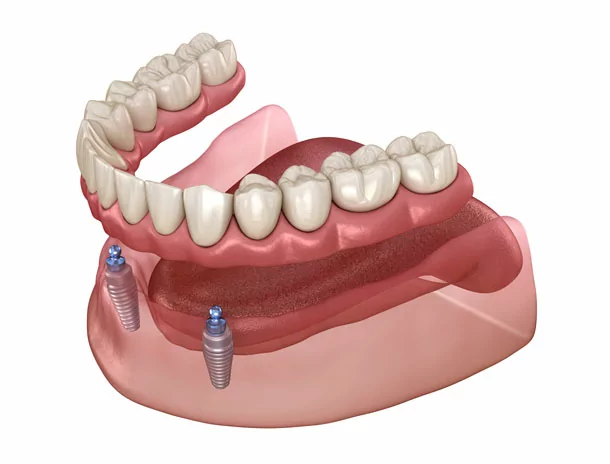 If you are tired of your dentures slipping or causing you discomfort, you may be a great candidate for our removable implant-supported dentures. Removable implant-supported dentures, or "snap-in dentures", are an affordable solution for patients who want the stability of permanent dentures, but perhaps aren't ready to commit to several dental implants.
Removable implant dentures on the lower arch are typically held into place by just two dental implant posts. This type of denture solution eliminates the movement of your denture appliance in your mouth and alleviates any stress and concerns caused by denture slippage.
After your procedure is complete, you will be able to quickly place and remove your own dentures onto your denture implants with ease.
Contact Us
Discover the many advantages of implant-supported permanent dentures! Call for your consultation today if you are in the Englewood area, including Dayton and Brookville.