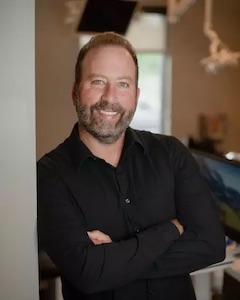 After graduating from the Ohio State University College of Dentistry in 2002, Dr. Nick then completed his advanced education in general dentistry in Jacksonville, FL where his focus was dental implant and aesthetic dentistry. His Dayton area dental expertise is complementary with his father's. Dr. Nick Vitangeli is an outstanding dayton dentist.
He joined his father in his well-respected private practice, and as a Dayton area cosmetic dentist, he has brought the patients his innate talents to create beautiful, healthy smiles.
Dr. Nick has completed post-graduate education through the Midwest Implant Institute and strives for excellence in placement and restoration of dental implants. Attending post-graduate courses is his passion, as he has been trained by some of the top dentists in the country, so he can practice the full spectrum of Dayton dentistry resulting in our patients being referred out less often. He is a wonderfully motivated Englewood dental expert, for Dayton area patients as well.
He is a member of the American Academy of Cosmetic Dentistry, the Ohio Dental Association and the Dayton Dental Society. Dr. Nick Vitangeli is a Dayton dentist and is certified in DOCS Oral Conscious Sedation. He also was recently awarded his fellowship in the Academy of General Dentistry. Dr. Nick and his wife, Tamarraw have two daughters and they reside in the Troy area. Dr. Nick also is a strong supporter of the OSU Buckeyes, and he co-owns a Crossfit Gym in Huber Heights.