Your Dental Implants Dentist in Englewood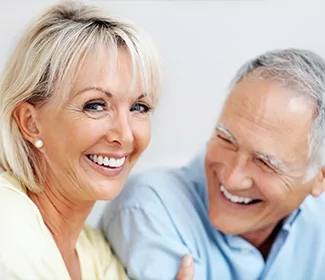 Dental implants provide a foundation for replacement teeth that look, feel and function just like the real thing.
Implant dentistry professionals Drs. Louis and Dominic Vitangeli recommend dental implants to patients with missing teeth or those with dentures and we're proud to offer them at our Englewood OH office.
More than any other type of dental restoration, dental implants give patients durable, reliable longevity.
Studies demonstrate that, among all types of restorative procedures, implant dentistry treatments achieve the greatest success rate. Other benefits of dental implants are:
A tooth implant has superior long-term durability — enjoy a lifetime of reliable form and function.
A tooth implant can help you retain a healthy bite pressure — enjoy your favorite foods.
A tooth implant replicates your intended tooth anatomy including roots, cusps, shape, color and contours.
Dental implants require no changes to nearby teeth and don't require any modification to adjacent teeth.
A tooth implant preserves facial contours — your jawbone won't deteriorate.
We can also use dental implants to secure dentures. If you are missing most, if not all of your teeth, and require dentures, our dental implant supported dentures are a great option.
Imagine rediscovering the confidence and comfort to smile, eat, speak, laugh and enjoy life again! This is one of the priceless gifts that implant dentistry specialists Drs. Louis and Dominic Vitangeli have the privilege of giving our family of patients. We invite you to call us today about dental implants from our Englewood, OH dental office. Come on in – we'd love for you to join our family!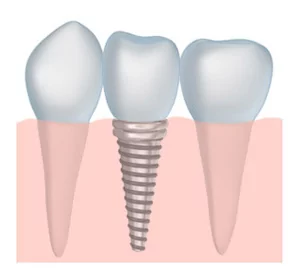 Dental implants consist of two parts: a small titanium post secured to your jawbone, and a highly durable Zirconia porcelain implant crown.
The crown completes our tooth implant procedure, and it mimics the color of your other teeth while enhancing the beauty of your smile.
If you are considering a tooth implant in Dayton, one question separates the expert from the novice: can my implant dentist perform both the surgical and restorative phases of the procedure?
Years of education and specialized expertise are required to perform each implant dentistry phase in the same location by the same dentist — in certain cases, at the same time.
Full Service Implant Dentistry
Drs. Louis and Dominic Vitangeli possess this implant dentistry expertise, meaning that we already have the outcome in mind and can achieve the ideal placement position for your implant. Instead of making you drive to two separate locations, we can place the dental implant during your office visit, and we can restore it in the same place.
At our practice in Englewood, we use a CT scanner and surgical guides to pinpoint the exact location and angle for the implant.
We take digital impressions to generate precise tooth specifications and we use an AACD-accredited laboratory to create amazingly beautiful porcelain veneer replications.
Are you tired of wearing dentures? Are you missing teeth? We welcome you to visit with dental implant dentistry experts, Drs. Louis and Dominic Vitangeli, and discuss the option of dental implants and implant dentistry if you are in the Englewood area, including Trotwood and Clayton. Contact us today!