Your Dental Implants Dentist in Englewood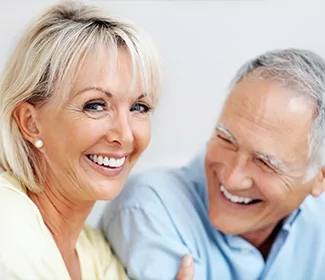 From speaking difficulties to the inability to eat certain foods, missing teeth can affect huge portions of a person's daily life. If you are missing one or more teeth, you don't need us to remind you that life likely hasn't been the same. Maybe you're wondering if there's anything you can do about it.
The answer is yes!
Dental implant treatment is one of the most popular and effective ways to heal your bite and your smile. Not only do implants fill in those gaps, but they provide a foundation for replacement teeth that look, feel, and function just like the real thing.
What Is a Dental Implant?
Dental implants are complete, root-to-crown synthetic teeth.
Most tooth replacement options, such as dental bridges or dentures, create a solid and beautiful biting surface for you, which completes your smile and helps you get back to the foods you love. What they don't do, though, is go under the surface to support your jaw at all. The portion of your jaw where your tooth roots were remains empty.
This leaves you at risk of jawbone deterioration. It also puts the pressure of biting or chewing on the teeth adjacent to the gap, rather than the jawbone itself.
Dental implants are unique among restoration options because they provide both the biting surface and a replacement tooth root.
Dental implants consist of two principal parts: a small titanium post secured to your jawbone, and a highly durable Zirconia porcelain implant crown.
The titanium post is made of the same type of material used in healing broken bones. It is strong, long-lasting, and almost completely hypoallergenic. The crown or implant dentures that complete your tooth implant procedure mimic the color of your teeth while enhancing the beauty of your smile. Together, these two custom pieces make an entire replacement tooth.
The Full Service Implant Dentistry Process
Exam and Consultation: The first part of the implant dentistry process is deciding whether you are able to receive an implant. For the post to heal and properly secure the crown, the patient must have sufficient jawbone thickness in the area. If you do not have the necessary bone mass, however, you may be able to supplement the space with a bone graft procedure.
Implant Placement: Once you have been approved for an implant, you will come in for the rod placement. Using our top-of-the-line technology, we determine the ideal spot for your tooth root and implant the titanium post at that location.
Healing and Osseointegration: The next step is a healing process called osseointegration. The bone and tissue need to heal from the implantation surgery. As they do so, the bone and the rod will fuse together. The bone and the rod together are much stronger and more secure than either of them were separately. This makes for a sturdy and healthy anchor to your new tooth.
Restoration: Once osseointegration has occurred and the tissues around the area are healed, we will place the custom-crafted dental crown or implant-supported dentures on top of the implant rod(s). This completes your new tooth structure.
The Benefits of Implant Dentistry Treatment for Missing Teeth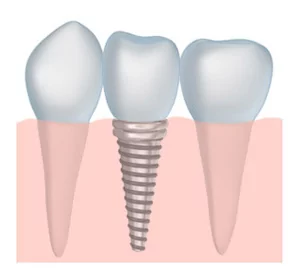 Our favorite benefit to implant dentistry — and one that our patients are also excited about — is the long-lasting nature of this treatment. More than any other type of dental restoration, dental implants give patients durable, reliable longevity. In fact, many implants that were placed decades ago are still healthy, strong, and getting their jobs done with comfort and efficiency.
But longevity isn't the only reason to consider a dental implant. Studies demonstrate that, among all types of restorative procedures, implant dentistry treatments achieve the greatest success rate.
Other benefits of dental implants include the following:
A tooth implant has superior long-term durability. Enjoy a lifetime of reliable form and function.
A tooth implant can help you retain healthy bite pressure. Enjoy your favorite foods again.
A tooth implant replicates your tooth anatomy including roots, cusps, shape, color, and contours.
Dental implants require no changes or modifications to nearby teeth. All your teeth can remain strong and healthy.
A tooth implant preserves facial contours. Your jawbone won't deteriorate.
Implant-Supported Dentures
We can also use dental implants to secure dentures. If you are missing most, or even all of your teeth and you require dentures, our dental implant-supported dentures are a great option.
Implant-supported dentures provide a more natural, secure fit compared to traditional dentures, allowing you to chew, speak, and smile with confidence. Each denture is anchored firmly to implants, offering superior stability and reducing the risk of slippage.
These dentures are also more comfortable and durable, and they promote healthy bone retention, thereby maintaining your facial structure. Trust us to bring back comfort and functionality to your everyday life with our cutting-edge implant-supported dentures.
Your Dental Implants Dentists In Englewood
Our implant dentistry professionals recommend dental implants to patients with missing teeth or dentures. We're proud to offer dental implant treatments at our Englewood, OH, office.
Imagine rediscovering the confidence and comfort to smile, eat, speak, laugh, and enjoy life again! This is one of the priceless gifts that our implant dentists have the privilege of giving to our family of patients.
We invite you to call us today to learn more about implant dentures from our Englewood, OH, dental office. Come on in — we'd love for you to join our family!
Why Come To Us For Your Implants?
All in One Office | In many areas, implant placement has to be done by separate dentists in separate offices; one office does the rod-placement surgery, and another places the dental crown on top. Different training is needed for the two different parts of the procedure.
Vitangeli Dental does it all! One office. One staff. When you come here for your implant procedure, we take good care of you all the way through the entire treatment.
Comforts and Amenities | We've taken a great deal of time and effort to make our office as comfortable as possible for all of our patients. To this end, we offer aromatherapy, warm towels, the latest in comfortable dental chairs, and memory foam cushions — not to mention the TVs in every treatment room.
Dental Technology | We always try to keep up with the latest developments in dental technology. For your implant treatment, we use nothing less than the highest quality equipment the industry has to offer.
At our practice in Englewood, we use a CT scanner and surgical guides to pinpoint the exact location and angle for the implant. We take digital impressions to generate precise tooth specifications, and we use an AACD-accredited laboratory to create amazingly beautiful porcelain replications.
You can look at our dental technology page for more about the many innovative tools we use at Vitangeli Dental.
Training and Experience | If you are considering a tooth implant in Dayton, one question separates the expert from the novice: can my implant dentist perform both the surgical and restorative phases of the procedure?
Years of education and specialized expertise are required to perform each implant dentistry phase, especially in the same location by the same dentist. Our dentists possess this full implant dentistry expertise.
Our expert dental staff is highly trained and able to provide all phases of your implant treatment with quality results.
Contact Vitangeli Dental for High-Quality Implant Services Today
Are you tired of wearing dentures? Are you missing teeth? We welcome you to visit our dental implant dentists and discuss the option of dental implants and implant dentistry. We happily serve everyone in the Englewood area, including Brookville, Clayton, and Dayton, OH. Contact us today!