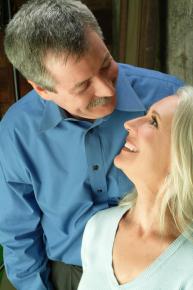 It's not only the losing of natural teeth that causes emotional and psychological distress, but also improper fitting or unnatural-looking dentures. Residents of Dayton, discover dentistry alternatives and eliminate the embarrassment and discomfort associated with speaking, eating and socializing with sub-standard dentures.
Drs. Dominick and Louis Vitangeli have seen the results of loose or improper fitting dentures. Excessive friction between the mouth's soft tissues and the harder dentures often result in sore spots that run the risk of infection. How can this painful and dangerous situation be avoided?
Over time, the ridge tissue supporting a denture will shrink, no longer securing it properly. Worse yet, an unstable denture can make the ridges shrink even more and at a faster rate. What should you do?
Arrange a consult with our Drs. Vitangeli to learn whether you are a candidate for denture supporting implants. Why? With a select number of dental implants in place, dentures suddenly become amazingly and lastingly stable. Wouldn't you love to eat comfortably again and smile with confidence?
What's involved in attaining denture supported implants? A tiny titanium support needs to be surgically placed into the jawbone following a careful analysis of the area. Natural bone will grow to secure this post and lend it ultimate stability. Once this has been completed, you now have the perfect foundation for anchoring a denture fitted precisely for you!
A denture that doesn't fit or teeth that don't function effectively will hamper your zest for life. Don't you deserve better, residents of Dayton? Discover dentistry at its finest by visiting our office today!